Gomes se retire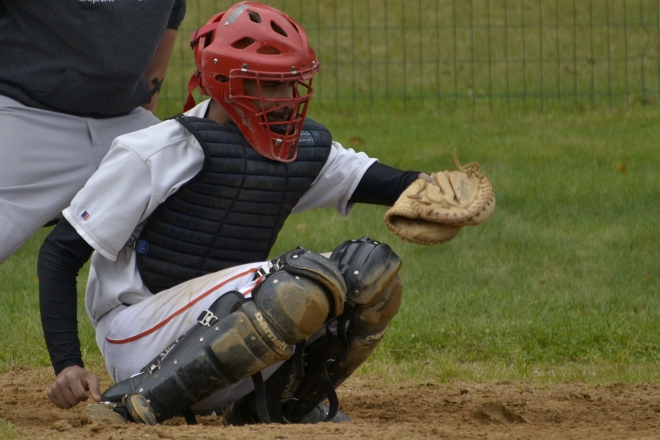 Il était là lors de la création du club déjà en 2002, et après une carrière qui l'a vu poursuivre différents projets, ce sont surtout ses 9 saisons jouées avec le maillot des Hedgehogs qui resteront dans la mémoire de ses compères. La saison 2015 fut sa dernière, et en annonçant sa retraite du baseball joué ,
Helder Gomes
a terminé un formidable parcours là où tout a commencé. C'était le moment selon ses dires : « As Mariano Rivera said my tanks are empty and I don't want to add another season".
Premier catcheur de l'histoire du club, c'est à cette position qu'il aura évolué la quasi-totalité du temps. Et s'il ne portait pas le maillot des H's lors des titres allemands, il a été l'un des baseballeurs les plus représentatifs lors des 7 titres nationaux qui s'inscrivent à son palmarès. Plutôt impressionnant pour ce beckerichois qui s'est construit sa carrière à partir de zéro sur les terrains improvisés de son village.
Ses statistiques de carrière sont impressionnantes. Pour le compte des Hedgehogs, il a eu une moyenne à la batte de .449 (11ème all time pour les joueurs avec plus de 50 AB), 181 hits (4ème all-time), 96 BB (5ème all-time), 16 homeruns (5ème all-time), 223 bases volées (3ème all-time), 225 runs (4ème all-time) et 197 RBI (3ème all-time).
Fort heureusement, le baseball ne perd pas sa présence et connaissance. En effet, il est aujourd'hui en charge de la section jeune des Hedgehogs, où il s'occupe de la prochaine génération de joueurs auxquels on ne peut que souhaiter le même succès qu'il a connu.
Connect through a social network:
or create a new account here:
or
Already have an account? Sign in here: